Visiting the breath-taking Swinger Building's porcelain collection in Dresden this week I was taken by a 16th Century Chinese vase. The hundreds of rounded characters decorating the vase, called 'shou', represent long life, happiness and energy.   Appreciating this ancient creation, still exquisite despite flecks and small cracks on its surface.  made me reflect on ageing "beautifully".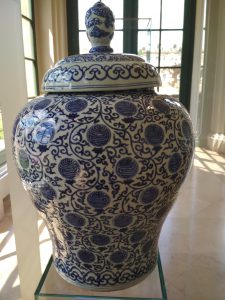 We need not be ashamed of our ageing process, despite the celebrity culture and media pressure to look so much younger than our years.  Each line tells the story of our well-lived lives, our wisdom and experience; each crease shows the sum of our laughter.   Let's wear them with pride.
Here are some positive quotes about ageing which I like :
"And the beauty of a woman, with passing years only grows!"  Audrey Hepburn
"If you are pining for youth I think it produces a stereotypical old man because you only live in memory, you live in a place that doesn't exist. Aging is an extraordinary process where you become the person you always should have been."   David Bowie
"You don't stop laughing when you grow old, you grow old when you stop laughing."  George Bernard Shaw
"My face carries all my memories. Why would I erase them?" Diane Von Furstenberg, from "The Woman I Wanted to Be," 2014
"The longer I live, the more beautiful life becomes." Frank Lloyd Wright
Some of these quotes were from this site:  Quotes from Senior Planet
The Chinese vase celebrates ageing beautifully in the true sense of the word – let's try to make sure we all do this too.
And please note – the knob of the vase lid is deliberately decorated with a powerful dragon.   Never forget the inner power you still possess even as you age.